Tina Obo is a young Ugandan-South African animator who has a love for storytelling and creating 3D animations that are authentic to African culture. In 2019 Tina graduated from The Animation School South Africa. Her animated short, 'The Sugarcane Man' is metaphorically based on Ugandan Warlord, Joseph Kony.
Watch the film here:
Read our EXCLUSIVE interview with Tina here:
Please give us a sense of your background? What drew you to animation?
I was born in South Africa to Ugandan parents. I grew up a shy, quiet kid and spent most of my time reading in the library where creating journals, art and making stories in my head was my solace.
As a kid I didn't see myself reflected in most TV shows and cartoons that I idolized, and it made me wonder why people who looked like me were stereotyped, put as background characters and not leads, and were often cast as the bad guy. It made me question my place in society at a young age. I wanted to change the mind-set of how people of colour see themselves on TV. I feel in animation we have an opportunity to make storytelling more relatable to people, mostly to children who look like me, so that in turn they can see themselves reflected in animated films, series, games, etc. and not feel they don't belong in a happily ever after story or can be a superhero.
During my studies at The Animation School I fell in love with storytelling and wanted to create content that imparts knowledge, awareness and admiration about the history of Africa.
What kind of content do you enjoy creating most and why?
I love to create content and write stories that feed and confront my soul; ones that challenge my thoughts and opinions and go against the stereotypical norm. I relish in writing stories that are authentically African, that celebrate and uplift different cultures within Africa. I am invested in telling stories that need to be voiced, I want to create content that viewers can appreciate and value through film, as I feel that it has the power to reach people and change their views on how they see the continent and the children it birthed.
Your 2019 animated short film The Sugarcane Man, is based on Joseph Kony. Tell us a bit about the film? What inspired you to create it?
The Sugarcane Man is metaphorically based on Joseph Kony, the Ugandan Warlord.
The film is set in Uganda and follows main character Akello, a 10 year old village boy, who plays his kalimba which is very important to him (signifies his childhood). He dances to the tune on a dirt road next to a sugarcane field. A strange dog slyly approaches Akello and snatches his kalimba, running towards the field. Hesitantly, Akello follows after it, through the dense field and into a hollow beneath a large twisted tree. He is shown a beautiful kalimba (signifies temptation and a better life) and when he picks it up he finds that he has been tricked into an agreement with The Sugarcane Man and his life will never be the same again.
This story addresses themes of exploitation of the innocent; the powerful preying on the vulnerable; predatory evil and temptation. Joseph Kony, who uses innocent children as soldiers in war, makes use of their vulnerability, tempting and forcing them by whatever means necessary. They are lured to be tools for war.
Ever since I was a kid I would hear stories of Joesph Kony from my family – it terrified and angered me. When I was about 6 years old my cousins and I got lost in a sugarcane plantation near my grandparent's village in Uganda and somehow I got separated from them. I remember the sound of sugarcane rustling in the wind as both settling and unsettling, and the shadows around me served as a reminder of what evil could be out there waiting to take me away from my family… But what made me take action and write about it was when I heard, in April 2017, that both the Ugandan and United States military forces were ending their hunt for Joseph Kony and the Lord's Resistance Army. They had captured the majority of his men but not him. That really angered me, I was more upset as I could not do anything to help and capture him, so I feel as an artist, writing a story based on him, is how I show my support and make people aware of what happened in the countries that Joseph Kony and the LRA reigned terror in for many years.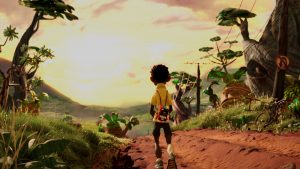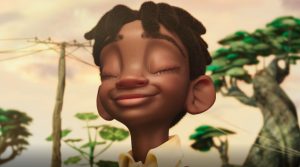 What was your role in creating the film?
I was the story writer, co-director, lead lighter, character texture artist, character modeller, asset texture artist and in-look development.
The film team consisted of nine students, including me. The Sugarcane Man was our 3rd year graduation short film at The Animation School in 2019. The other team members were; Leroy Le Roux, Nadine van der Merwe, Lauren Muller, Yaeshen Naidoo, Ivan Stoltz, Phillip Cummings, Sipho Moroosi and Gideon Redelinghuys.
The group comes from different backgrounds within the African continent and we put aside our differences to create an impactful film. I am very grateful to my team mates – we went through a lot of obstacles to fight for the voice of this film, we fought for it to stay true to its form and be authentically African. During the process they also learned about Ugandan culture which was amazing for me and my family. It was a challenge to create this film as we wanted to be ambitious but also realistic. We know that there are so many stories that tell the brutality of what child soldiers face, so we wanted to take a risk in style and environment, and not follow the norm…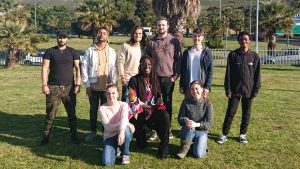 What do you hope audiences take away from the film?
Knowledge.
To make people aware and not forget about the countries in which Joseph Kony and the LRA reigned terror for many years, these include; Northern Uganda, South Sudan, Central African Republic and Democratic republic of Congo. Most importantly we want people to remember that there are still children who are being used for tools of war in other countries like; Myanmar, Somalia, Afghanistan, Chad, Sudan and Yemen.
It's my desire for the film to be an inspiration to those who want to make a change in the world, to create stories that are different and meaningful, that effect change in people's understanding and commitment to the world. At the end of the day I hope my teammates and I did justice to the story that was written for the children.
What are you currently working on?
Right now I am currently collaborating with someone on a personal project that uses silhouette animation, which is new to me but I like the challenge of learning different forms of animation. In addition to this I am also editing story scripts for people as a freelancer. I really enjoy writing stories and collaborating with people when it comes to pitching a very powerful story piece.
As a young woman working in the animation industry in SA, what is the current state of the industry in your opinion? How can it improve?
I think technically the industry is excellent, its developing at a good pace, however story wise I would like to see the representation of more afro-centric stories in animation and more women on crews…
South Africa is very rich when it comes to culture and heritage; through animation we have the opportunity to preserve it… I can see there is a hunger for new content and that should encourage and challenge us to bring something new into the industry – to give a voice to stories that have not been heard before.
There needs to be more support to uplift authentic African stories that are not told through the lens of western eyes but that of African people. The movement to bring more diversity into the South African animation industry is increasing with more funding opportunities from organisations like Triggerfish and the National Film and Video Foundation; and scholarships, bursaries and mentorship programmes from institutions like The Animation School who are providing these opportunities to young creatives, often of colour, who don't have the financial means to study animation. Support for women in the industry is also increasing with the formation of organisations such as, Women in Animation and the Ladima Foundation.
I have to remind myself at times that animation in South Africa is still young and that it is growing in its own way, it's still trying to find its own voice and style. To do that we need to break the norm and believe that we are capable of creating authentic stories that is true to South Africa.