LADIMA FOUNDATION EXCLUSIVE: 
British-Ghanaian filmmaker Comfort Arthur is an award-winning animator, graphic designer, visual artist and editor. The founder of The Comfy Studio – a multimedia studio based in Ghana – Comfort has produced numerous celebrated animated shorts, including The Peculiar Life of a Spider (2015), Imagine (2016), and Black Barbie (2017) which has been screened at over 40 film festivals, scooped several international awards and been turned into a children's picture book. In 2019 she released the web-series, I'm Living in Ghana, Get Me Out Of Here – a comedic look at her personal experience moving back to Ghana
"As a filmmaker I am driven to tell stories not only to entertain but to provide the audience with the ability to question the society around them. I use animation as a medium to express, explore and examine personal struggles and cultural beliefs." – Comfort Arthur
Read our EXCLUSIVE interview with Comfort here:
Please give us a sense of your background in film? What drew you to animation?
I knew as a child that I was very creative but I didn't know exactly what I wanted to finally do. I studied Graphic design as my first degree and focussed on illustrations, but I knew I didn't want to spend the rest of my life just drawing so animation became the next goal. I did my Master's in Animation at the Royal College of Arts in England. After I graduated, I thought "great, I've got a degree; I can now work in the industry". However, that was not the case and I ended up working in a supermarket for the next seven years. Those times were frustrating and depressing.
In 2017 my sister saw an advert placed by Sparrow Productions (Shirley Frimpong Manso) in Ghana looking for a film editor. My sister urged me to take on the job. I had never studied editing and the only editing I knew was the basic form of editing. I was reluctant but my sister urged me to still apply. In December 2012 I left London and moved to Ghana as a film editor. I stayed at Sparrow Productions for three years where I managed to experience set life and see how Shirley directed. Being around a female director was very influential and inspiring for me. I learned so much about filmmaking and how to edit films.
After a while I wanted to work on my own animation projects so I left Sparrow Productions in 2015 and became a freelancer, and started working on my own personal project. I produced my first short, The Peculiar Life of a Spider (2015), which got me my first Africa Movie Academy Award nomination. It also gave me the confidence to start making more short films and the following year I produced Imagine and Black Barbie. Both films were screened across the world and it was with Black Barbie that I won my first directorial award at the Blackstar International Film Festival.
In 2019 I released my comedy web-series, I'm Living in Ghana, Get Me Out Of Here – a comedic reflection on my experience moving back to Ghana.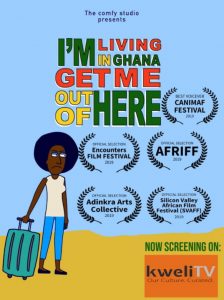 What kind of content do you enjoy creating most and why?
As a filmmaker I am driven to tell stories not only to entertain but to provide the audience with the ability to question the society around them. I use animation as a medium to express, explore and examine personal struggles and cultural beliefs.
Spoken word is another tool I use to get my message across about sensitive issues. This is something that is present within my films that make them more impactful and memorable.
As a filmmaker I believe animation can be beneficial as it helps people to grow and heal. I use animation as a tool to therapeutically heal. My short film, Untitled (2017), is about different women's experiences with sexual harassment. The film was meshed together with a mixture of different animations and a Voice Over of the women retelling their individual sexual harassment experiences. I believe one of the best ways to work through painful experiences is to channel them into filmmaking. For me I use animation as a safe space to tell difficult experiences creatively.
Imagine (2016) is another film that I created to challenge audiences to question their thoughts about the Chibok girls that were kidnap in Nigeria in 2014. The film asked the audience what they would do if it was their child that had been kidnapped.
There are so many issues in society that need to be addressed and animation is a powerful medium with which to do so, and a great way of engaging an audience.
Your short film Black Barbie, gained international recognition and success. Why do you think it resonated with audiences on a global scale?
My film Black Barbie is a poetry animation about my personal experience with lightening my skin to look like the perfect light-toned African woman. My intention when making the film was to get the audience to question societal ideals of beauty through my experience.
I initially wrote Black Barbie for my younger cousin who was battling with low self-esteem due to her skin colour. She confided in me that she wanted to bleach her skin. So I wrote Black Barbie so that she could read and understand that she wasn't alone and that I too had once hated my skin tone.
I think that some of the best films created are from personal experience. When I was studying for my degree, I wrote my thesis on how animation can be therapeutic, so in a sense making this film was like going to therapy.
Black Barbie has been screened across the world and in the U.K. it has been used as a case study in after-school film classes. I am also pleased to announce that I turned the film into a picture book that is currently available in the United States.
What is the current state of the Ghanaian Film & TV industry in your opinion? Are there opportunities for young, emerging filmmakers?
Due to the lack of funding and investors it can be challenging to produce films in Ghana. One of the main problems is trying to make our industry economically self-sustaining.
Excitingly, the National Film Authority has organised a Pitch Series this year to aid in helping filmmakers produce high quality local productions that will appeal to global market.
With regards to diversity and gender-equality in the Ghanaian Film & TV industry, what is the climate like in your experience?
I can only speak on my experience but I have been blessed to work with amazing animators both in Ghana and other parts of Africa. Although there are not many female animators in Ghana, the ones that I do know are very supportive of each other's work.
I have never felt at a disadvantage because of my gender nor have I been made to feel inferior. But that is not to say this doesn't happen to other female filmmakers. However, most of the male animators I know are super supportive and want me to excel in my craft.
What has been the biggest challenge/s of your career thus far?
As a filmmaker, my biggest challenge has been the inability to raise funding for some of my animation projects. The lack of willingness by other animators and digital artists to collaborate sometimes on projects has been a limiting factor to engage on wider projects.
What has been the highlight/s of your career in the industry?
In 2020 I had the opportunity to work with the Ladima Foundation to facilitate an animation programme for young women in Nigeria. It was such a rewarding experience as I was able to help inspire more young women to take an interest in animation and also help them improve their filmmaking skills.
What advice would you give to young women wanting to pursue a career in animation?
Don't give up! Being a filmmaker is not as glamorous as many people believe it to be. In the world we live in getting money to fund films is quite daunting and frustrating. During the times when I am out of work I tend to work on my own personal projects. I also use those quiet times to learn new skills. I think it is very important to always learn to pick up new skills. Animation is relatively new to the African market… Having another skill is fundamental.
What next for Comfort Arthur?
How we view films is evolving and I am currently exploring the use of Virtual Reality (VR) and Augmented Reality (AR) in storytelling. I've been storytelling across a number of mediums from traditional picture book illustrations to comics and animation. I would like to be able to take my storytelling processes to the next level, to push the boundaries and fuse these areas together to create some really unique and engaging work through using VR and AR.
Compiled by Chanelle Ellaya