We caught up with Ladima Foundation A-List member, director Rene van Rooyen to speak about her most recent film Toorbos – releasing in South African cinemas nationwide on 13 November.
Toorbos is the final forest novel in renowned Dalene Matthee's critically acclaimed works. What inspired you to adapt it?
I had first read the novel in 2012 and was deeply touched by Matthee's honest account of a young girl growing up within her marriage. Torn between her love for her husband and her own ideals, Karoliena's search for personal freedom and being true to herself is what make her so admirable. Together with this, her coming-of-age narrative is discovered through important universal themes, exploring the impact of economic progress and modernity on our connection to nature. The setting is spectacular, 1930's Knysna forests, and was a beautiful backdrop to explore the story within.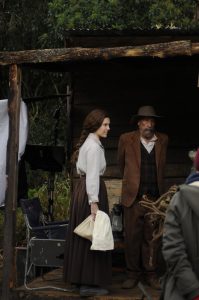 Where did the filming take place and what was that experience like?
What makes it unique is that we filmed it on location, deep within the Knysna forests. We were cut off from the outside world for a month, with no cellphone reception. We had villages that had to be built in the forest, cars towed in…and soon felt transported to the time of the 1930's. At times we had to write letters to one another in order to communicate. The weather added to the mystical feel of the film. It was rainy, misty, with a constant thick cloud cover.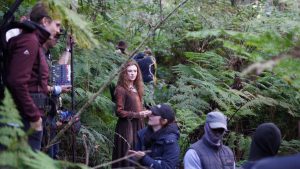 The film centers around Karoliena and Johannes' epic love story, how did you decide on the cast?
The moment I saw Elani and Stiaan's audition together, I immediately fell in love with their take on the characters. They had great chemistry. With that, Karoliena's is a very complicated character. Elani had to capture the innocence of an 18-year old girl growing older over the decade. With that she had a very specific dialect, which she started working on months before filming. I knew that Elani had the discipline and talent to carry such a challenging role and I could place my trust in her.
The soundtrack and final mix plays an integral part in the themes as well as bringing the magical setting to life. What was your approach?
Pressure Cooker Studios designed an incredible score and it's available on all online platforms. We looked at how to explore the dualities in the film through the music. The forest is at its core unpredictable, organic, unstructured and earthy. The music echoes that – slight atonality, experimental, organic harmony, free rhythms, and unpredictability, with an organic aesthetic and acoustics soundscape, The precise bars, the predictability of the intervals (both melodic and harmonic), the European aesthetics within the classical music rules became more prominent within the town. The final mix and sound design was done by Workroom Studios – their first local feature. The detail and professionalism of this design is something to experience in cinema. Their work truly transports the audience to the location. The mix is incredibly immersive and they had spent months, rebuilding and recreating each scene and forest to give the audience an otherworldly experience.
The setting was beautifully captured by Brendan Barnes' cinematography. What was your approach?
We were fortunate enough to start pre-production well in advance and could storyboard majority of the film. It has been one of my most creative film experiences working with Brendan and crafting the film. He is passionate, unrestricted and is not afraid to take risks. We used a subjective following camera, to explore Karoliena's inner conflict. It is free, emotive, organic and unrestricted, staging and blocking is in depth, from Karoliena's point of view. This approach varied depending on how rooted and in control Karoliena feels within each scene. The natural light quality of the forest is diffused and dark, a mysticality created by the dense canopy cover, whilst the town, open and treeless is stark and bright. Utilising this, interior lighting was approached to create dualties within a frame, contrast between the mystical (darkness) and reality (lightness) through natural sources, supported by the design of the sets. It was important that the light felt organic and the atmosphere tangible and unminipulated. The wide angle lenses, majority being, 20mm and 24mm (and spesific moments of isolation at 14mm) played an important role in contrasting the protagonists in relationship to her environment and giving her freedom of movement. It was important to empower the actress, as with the character.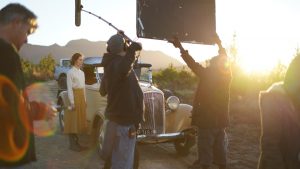 Toorbos releases in cinemas nationwide 13 November 2020. What are your plans after it?
I've recently completed the Realness African residency with my screenplay "Vrees" (Fear), which is a psychological horror, exploring white identity on a farm set in the Karoo, which I'm hoping to film by winter 2021. Through our production company RED LETTER DAY PICTURES, we're also in development of a grey-market comedy Hans Steek die Rubicon Oor and several TV series.